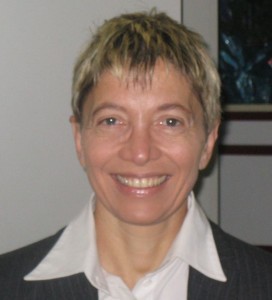 Maria Grazia Albanesi (pagina in italiano)
Maria Grazia Albanesi is Associate Professor of Computer Science at Department of Electrical, Computer and Biomedical Engineering of the University of Pavia (Italy)  where she coordinates several research activities regarding image analysis and processing within projects supported by both industry and public institutions.
In 2014 she founded the Computational Sustainability Unit (CSU) for which she is responsible.
She received her PhD. in Electronic, Computer and Electrical Engineering in 1992 with a thesis entitled "Integrated VLSI architectures for signal and image processing".
She graduated cum laude in 1986 at the Faculty of Engineering of Pavia with a thesis entitled "Visual perception and image compression".
Her current research interests focus on (a) signal and image analysis and understanding for image retrieval, image quality and similarity assessment; and (b) model definition and applications for Computational Sustainability based on visual data ((in collaboration with Life Sciences researchers, with a multidisciplinary approach).
At the University of Pavia, she is currently Professor of Digital Content Retrieval in the International Master's Degree (Second Cycle Degree) in Computer Engineering.
Curriculum Vitae (EU Format, in Italian)
Curriculum vitae (EU Format, In English)
Coordinates: